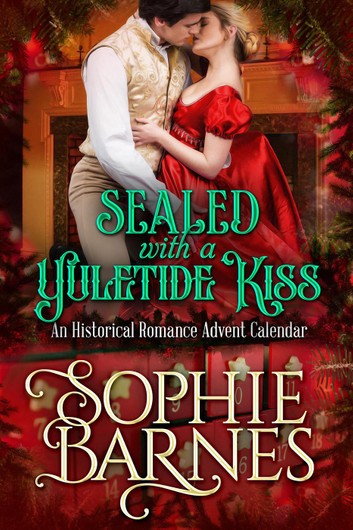 An Historical Romance Advent Calendar
Historical Romance, Regency Romance, Holiday Romance, Romance Anthology
Date Published: November 30, 2021
Allow yourself to be swept away as you count down to Christmas with this collection of twenty-four romantic short stories. From friends to lovers and instant romance to secret identities and so much more, these treats are sure to fill you with warmth this holiday season. So grab a hot drink, settle into your favorite spot, and indulge in the magic of happily ever afters.
Story titles:
December 1: A Drunken Christmas Escapade
December 2: A Royal Affair on Christmas Eve
December 3: A Duke Surrenders His Heart on Christmas Eve
December 4: A Highwayman Proposes on Christmas Eve
December 5: Caught in a Snow Storm on Christmas Eve
December 6: Rescued by a Duke before Christmas
December 7: A Kiss for Christmas
December 8: A Christmas House Party
December 9: Underneath the Mistletoe
December 10: Snowed In on Christmas Eve
December 11: An Unexpected Guest Arrives for Christmas
December 12: At the Christmas Ball
December 13: Trapped in a Carriage on Christmas Eve
December 14: By the Stroke of Midnight
December 15: The Duke Proposes on Christmas
December 16: A Scandalous Dare on Christmas Eve
December 17: A Secret Christmas Rendezvous
December 18: Stealing a Yuletide Kiss
December 19: A Shocking Revelation for Christmas
December 20: Stranded at an Inn during Christmas
December 21: An Unexpected Encounter with a Highlander
December 22: Reunited on Christmas Eve
December 23: Only a Duke Will Do for Christmas
December 24: A Christmas Wedding Gone Awry

About the Author
USA Today Bestselling Author, Sophie Barnes, has spent her youth traveling with her parents to wonderful places all around the world. She's lived in five different countries, on three different continents, and speaks Danish, English, French, Spanish and Romanian with varying degrees of fluency.
She has studied design in Paris and New York and has a bachelor's degree from Parson's School of design, but most impressive of all - she's been married to the same man three times, in three different countries and in three different dresses.
While living in Africa, Sophie turned to her lifelong passion - writing.
When she's not busy, dreaming up her next romance novel, Sophie enjoys spending time with her family. She currently lives on the East Coast.
Contact Links
Purchase Links